Hi there and welcome to my site! Today I would like to share my love affair with Sorrelli Jewelry. Sorrelli is handcrafted gemstone jewelry made for women by women, and their exquisite style is bar none, in my opinion. Whether casual or a black tie event, their gemstones make you sparkle and shine, both on the inside and outside too.
MYSTERY NIGHT   I was out with the girls one night at a favorite club that we go to. They were raising money for some charitable event. The name of the charity eludes me but my first piece of Sorrelli jewelry is placed in the appropriate section of my armoire. I had never been to a silent auction before. I questioned what the little brown bags were for. You could buy tickets and place them in the bags in front of the items displayed. If you were lucky and got chosen, the item was yours. As I perused the various items, there they were. Cushion cut, solitaire earrings with champagne gemstones and antique gold settings.
ACTION
Getting tickets was the next course of action. It was pretty crowded and at first, I couldn't locate the person
in charge of tickets. I was already panicking. Those earrings were so beautiful. What if they started the auction and I hadn't placed my bid yet? I had to have them. They would look so beautiful on my dainty little ears. Then the ticket seller approached with a stack of tickets. How many should I get? What would it take? I purchased 10 tickets at one dollar each. I then proceeded to the Sorrelli jewelry bag and placed one ticket in the bag. I peeked inside and saw there were a few other tickets. Then I proceeded to go back and revisit the other offerings, in case I missed something else that I should bid on. But nothing held my interest like those earrings. I went back to the Sorrelli bag and put the rest of the tickets there to give me better odds.
DESIRE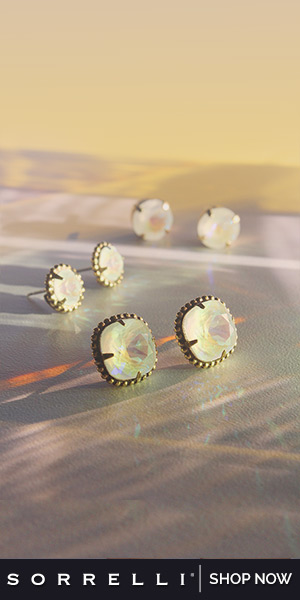 I could already feel the earrings on my ears. Me and the earrings were one. I couldn't imagine that any of those other women who were bidding would look as beautiful as I would with my new Sorrelli earrings. I was familiar with Swavorski jewelry and crystals but never had any of my own. My Aunt Alice collected Swavorski figurines when I was younger but as a child, I didn't know anything about jewelry yet. All I remember was, "Don't touch, they are very expensive and would cost a fortune to replace if you break them!" Funny thing how the mind works. I truly believe our subconscious controls a lot of what we do and say. Could it be those harsh words from a crinkly old lady in my youth kept me from enjoying beautiful crystal gemstone jewelry in my adult life? My friend pointed out that she had pieces of their jewelry and loved them. Also, they were a local company!!! Now I was really impressed and wanted to know more about them. The bright lights were turned on as the auction began. I couldn't tell you most of the details but it really didn't matter. My heart leapt for joy when they announced my name and I proudly walked up to claim my prize. I hurried back to our table and replaced what I was wearing with my new handcrafted antique gemstone earrings.
BRICK AND MORTER
I had to have more. After searching online I found out they were a local company in Kutztown, PA which is not far from where I live. It's approximately 30 miles, or 45 minutes with no traffic. Kutztown is a major university and has a quaint little historic town with little shops on main street. You would never suspect one of these little shops hosting the most brilliant jewelry on the planet. A friend accompanied me and it was my birthday shopping trip on October 29, so I was entitled to a special discount. The salesperson that greeted me was very pleasant and eager to help. In addition to my birthday discount, they were having a clearance sale to make room for the new styles. Double sale means more jewelry, right? Boy was I in trouble. Everything was so beautiful, I couldn't make up my mind. And when I get a new necklace, it always has to have matching earrings. Bracelets sometimes but not always, except for this day. Looking book, it was the most elegant experience I ever had. I pointed in the case, they dropped a piece of jewelry on the black velvet tray. When the tray was filled, you went to a vanity to try it on and see how it looks. All the while, your best friend and 2 salesgirls are telling you how beautiful you look!!! I couldn't say no. I announced I would take it all, no limiting myself this time, no control. As I watched the cash register ring up, I asked "Is that with the discount?" The salesgirl said yes, it included my 20% off for Birthday, and the additional clearance discount. My friend confirmed she had been watching the numbers on the digital display. I slipped my finger into the secret compartment of my wallet and gingerly pulled out my emergency credit card. It may not have been an emergency, but I was certainly catching up on all the years I missed having Swavorski crystals.
ABOUT SORRELLI
Sorrelli was founded by a woman named Lisa Oswald in 1983. She majored in Art at the Kutztown University and after graduating, made her home in the Big Apple. Where else to settle for an aspiring young artist? She had a love for jewelry like I do, only she wanted to make it. She would design new jewelry and wear it to parties in downtown Manhattan. People loved her and her jewelry, and they wanted more too…just like I did. In the late 80's, she moved back to Kutztown, bought a barn and started making jewelry there. The rest is history. Whether you want to buy antique heirloom type jewelry or Ask a Stylist to help you pick the right jewelry for the right occasion, Sorrelli is a place you must put on your checklist to visit, whether it is brick and mortar or online experience.